To Outsmart Stress
What's good? Recent research suggests that foods that are high in carbohydrates ,such as bread, rice, and pasta , can help you calm down!
Researchers say that carbohydrates cause the brain to release a chemical called serotonin .Serotonin makes you feel better.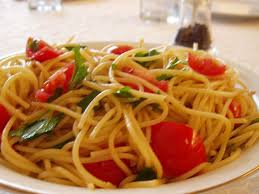 What's bad? Many people drink coffee when they feel stress . The heat is soothing and the caffeine in coffee might help you think more clearly. But if you drink too much , you may become even more anxious and irritable.
To Soothe the Blues
What's good? Introduce more lean meat ,chicken, seafood, and whole grains into your diet. These foods have a lot of selenium. Selenium is a mineral that helps people feel more relaxed and happy . You can also try eating a Brazil nut every day. One Brazil nut contains a lot of selenium.
What's bad?When they're feeling low, many people turn to comfort foods – or foods that make them feel happy or secure .These often include things like sweet desserts . A chocolate bar may make you feel better at first ,but within an hour you may feel worse than you did before